In the 20th arrondissement, the church of Saint-Jean-Bosco is one of the most beautiful, and more surprising, churches of the interwar period.
Sixtieth edifice of the "chantiers du Cardinal", an organization created in 1931 by Cardinal Verdier, archbishop of Paris, whose objective was to build churches in Paris and its suburbs for working and disadvantaged populations, this monument strikes by its originality , the richness of its decors and its excellent preservation. An original discovery for amateurs of contemporary sacred art.
Built between 1933 and 1937, the church of Saint-Jean-Bosco is inspired by Notre-Dame du Raincy church, built 10 years ago. The 53-meter-high bell tower gives the building a monumental character and offers a perfect testimony to the artistic and architectural research of Art Deco in the 30's.
Wall paintings, frescoes, mosaics, stained-glass windows, statues … The interior of the church offers an extraordinary diversity of decor, made by the greatest religious artists of the period (Mauméjean for ornamentation, Gaudin for stained-glass windows…. Do not miss the baptistery and the "baptism of Christ" scene, one of the church's most successful ensembles, the stained-glass windows, the altar and pulpit.
All these elements are perfectly highlighted by the reinforced concrete pillars that separate the decorative elements to make them more visible.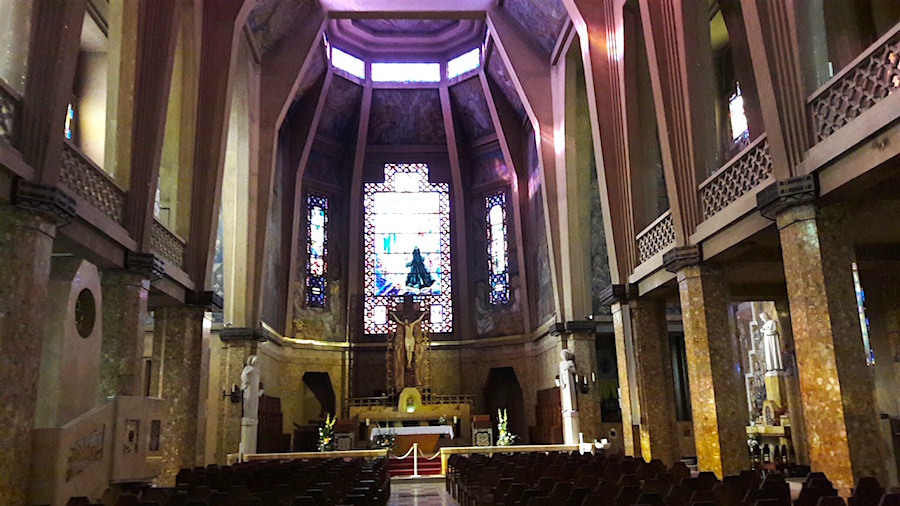 One of the finest examples of religious art in the 1930s.