Every week , the City Hall of Paris organizes a guided visit (two during the summer) of its buildings. From the hall to the office of Mayor, an original opportunity to discover a part of the history of Paris, within one of the finest buildings in Paris.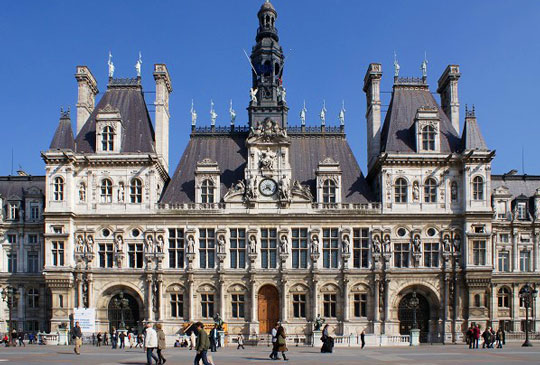 Seat of the Municipality since 1357
Since 1357, the City of Paris has never left its current location. However, the building changed over time . First " House of the pillars" in the 14th century, because of the large piles that supported its facade, it is King François 1er who commissioned a new building back from the wars of Italy, whose construction lasted from 1533 to 1628. A palace designed by Italian architect Boccador in a style that combines Italian Renaissance and French Classicism. For a while, the building will be then slightly modified and extended until the terrible events of 1871.
On 24 May 1871 the City Hall indeed burnt down, because of the Commune of Paris, civil war that puts Paris to fire and the sword. The council decided its reconstruction at the same place. Théodore Ballu and Édouard Deperthes won the architectural competition by offering façade a similar design that Boccador's building. Inaugurated in 1882, only the interior will be changed to be compatible with its administrative functions.
Another novelty will be the 200 statues that adorn the facades representing personalities from the world of art, science or politics, all natives of Paris .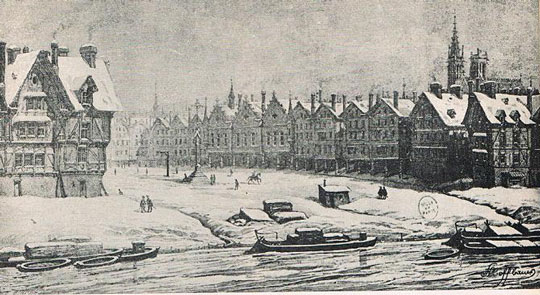 La Place de Grève – 14th century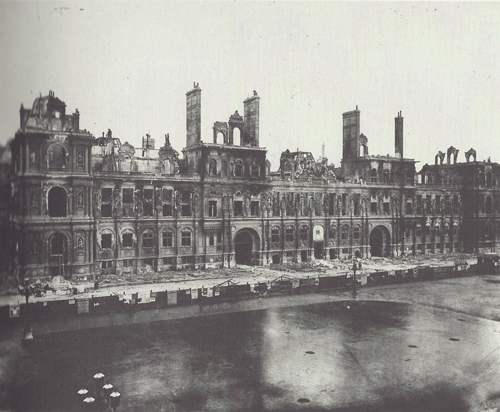 Hôtel de Ville burnt out, Charles Marville
From "Place de Grève" to "Place de l'Hotel de Ville"
Named Place de l'Hotel de Ville in 1803 , the large square in front of the City Hall has also always been an important place in Paris lifetime. Nowadays mostly dedicated to leisure, it knew less glorious hours when it was named Place de Greve .
For a long time most important port in Paris, the word "Grève" (Strike) takes its name from the sloping sandy beach built for docking boats. A place that attracted many Parisians in search of work, who came here "faire la Grève" – "Doing strike. Over time, the meaning of these gathering workers has been reversed !
The Place de Grève had also been the mecca of Parisian public executions for 500 years. The first took place in 1310, where a heretic woman, Marguerite Perrette, was burned. The last public execution was in 1832.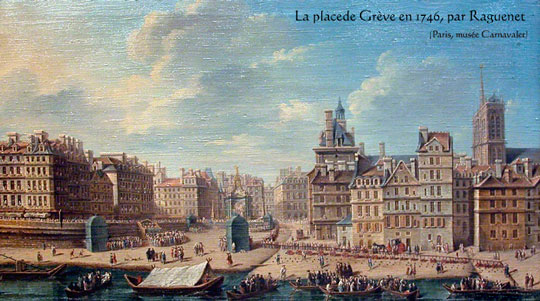 Guided Tours of l'Hôtel de Ville
That's all this history, and even more, you can discover during the guided tours organized by the City Hall, walking through the wonderful rooms and the old monument
One weekly visit, groups about 30 persons (summer : two weekly visits). Visits only ion French.
Registrations :
— Salon d'Accueil, 29 rue de Rivoli (4e arrondissement) Monday to Saturday 10am 7pm
— Telephone : 01 42 76 43 43 (Monday to Saturday 10am 7pm).
— Protocole service phone: 01 42 76 50 49 ou 01 42 76 54 04
More informations (French) here