What remains today of the 19th century Paris, before Baron Haussmann inexorably change the face of the capital ? If the work of photographer Charles Marville is among the best examples of these transformations, a journey between past and present also allow to relive the evolution of Paris from the 19th century until today. 
Place des Vosges
The first of the five royal squares in Paris, inaugurated in 1612, will offer to Parisian its first grass around 1680. It has since ceased to be one of the most beautiful places of the capital.
Trocadéro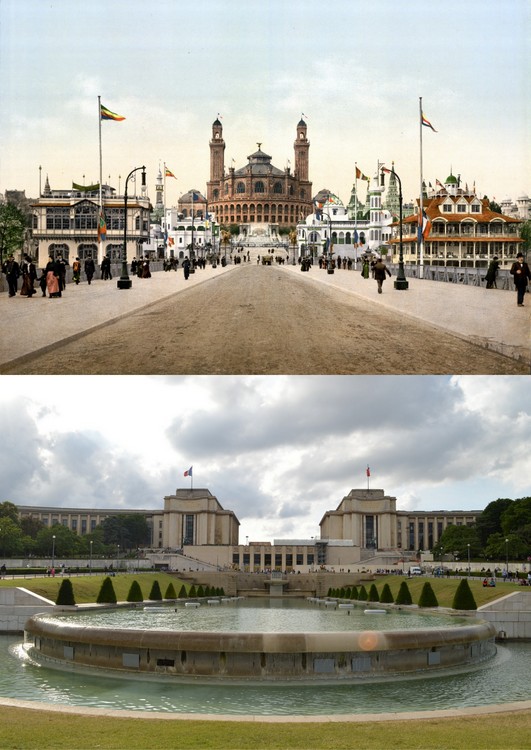 Before the current Palais de Chaillot formerly was at the Trocadero the Trocadero Palace, a Moorish-inspired construction made for the 1878 Universal Exhibition. Sadly not existing anymore… 
Canal Saint-Martin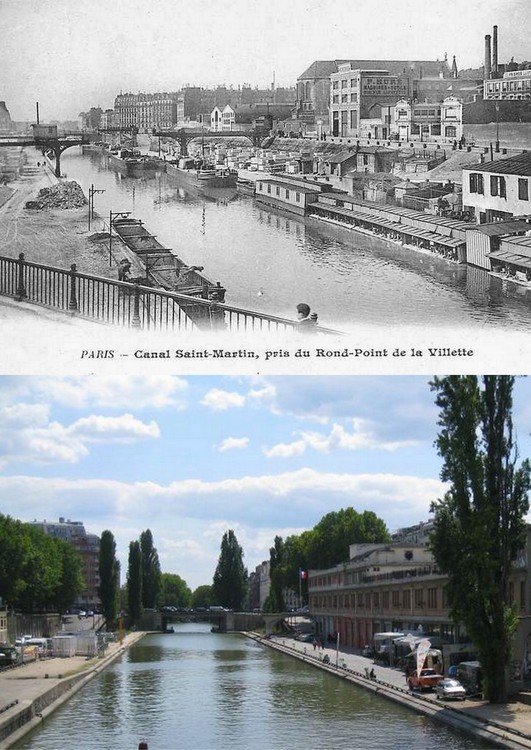 Today trendy fashion place in Paris, the Saint-Martin Canal and its surroundings were a woking-class district housed by people that came to work in the factories and warehouses. A canal that also swapped goods for tourist cruises.
Montmartre
Most beautiful "Village" of Paris, and artistic heart of the capital, Montmartre was once a giant gypsum quarry operated since Gallo-Roman era.
Place Dauphine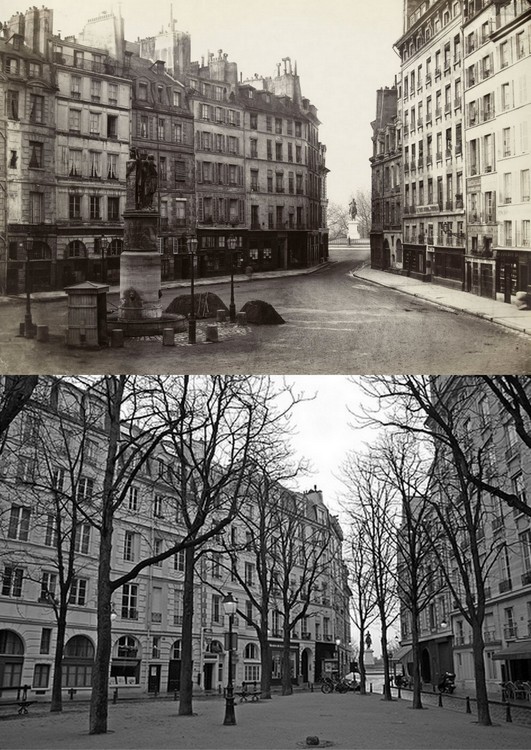 Behind the Palais de Justice, on the Ile de la Cité, Place Dauphine is one of the least known royal squares of Paris. A place that has seen many changes, but remains, with its triangular shape, the "Sex of Paris", as described by the surrealist André Breton.
La Villette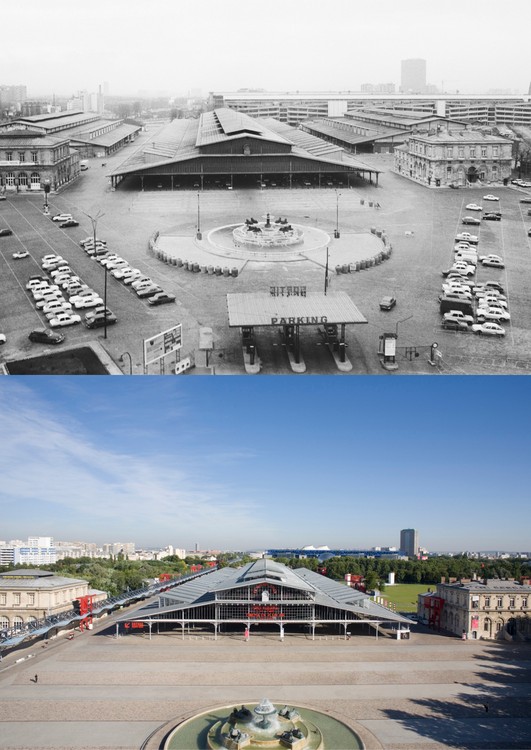 Before becoming one of the most important cultural places of the capital, La Villette was the cattle market of Paris, and the Grande Halle the "Bulls Hall", built between 1865 and 1867.
Marché aux Fleurs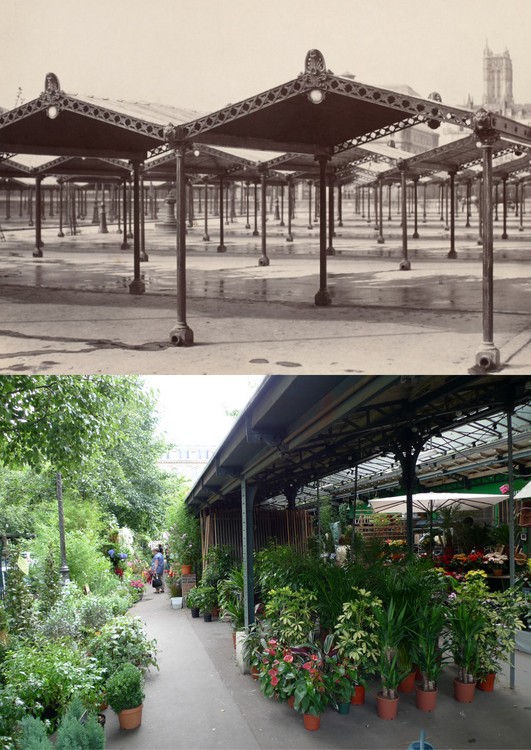 The first flower market in the Ile de la Cité was inaugurated in 1809, replaced in 1873 by a new market. Since the visit of Queen Elizabeth II in 2014, it is named Flower Market Queen Elizabeth II.
Moulin de la Galette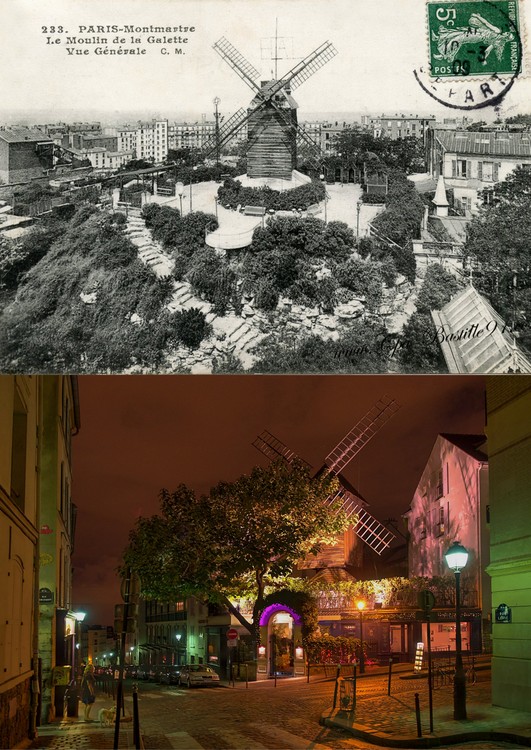 Commonly called Moulin de la Galette, it was once called the Moulin Radet. Threatened with demolition, he had been transferred to 1, rue Girardin, where it is still visible today.
Pont des Arts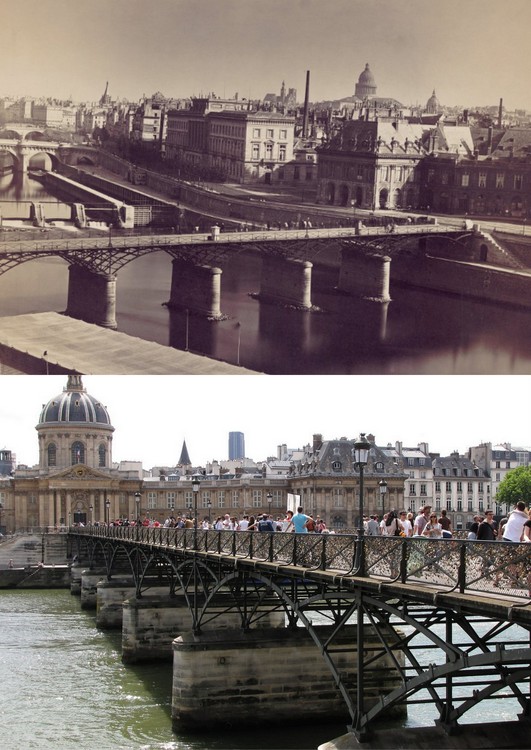 First metal bridge in Paris, it has been threatened lately by "love padlocks". 
Fontaine des Innocents (Place Joachim-du-Bellay)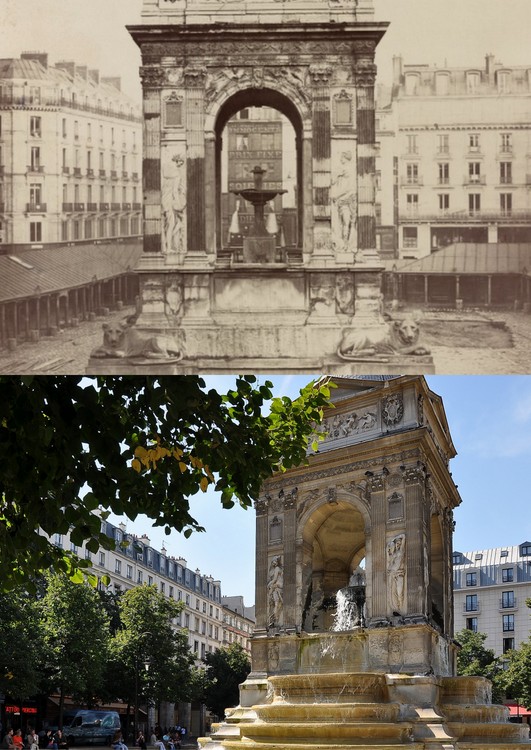 Old Fountain of the Cemetery of the Innocents, it had been then at the center of the Innocents Markets when the cemetery closed, and has become today a resting place in the heart the Halles district.
Les Toilettes publiques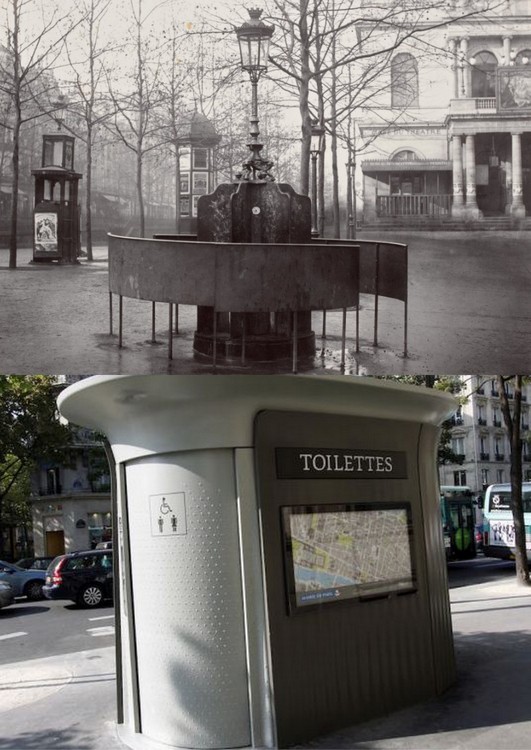 As a bonus, the evolution of the Parisian public toilets.